A blogger must know the importance of blog SEO.
A content without SEO practices is of no use. Why am I saying this?
One of my friend's hobbies is writing blogs, so she decided to write blogs and make passive income.
She started writing, and six months passed. But she didn't get better results as she didn't aware of SEO practices.
The search engines do not even crawl her content.
When we met each other one day, she told me about blogging and all.
That time I realized she didn't optimize the content and other SEO practices like registering property in the Google search console, submitting a site map, and requesting to index the added website.
As a result, web robots didn't crawl her website.
So what is the use of her blogs with no readers?
You can get some traffic on your content by promoting ads or links on the social platform. But SEO brings organic traffic with vast scope to reach your targeted customers worldwide.
Here is the importance of Blog SEO.
What is Blog SEO?
The blog SEO practices are Optimizing blog content, HTML tags (title, headings, meta tags), site speed, site architecture to rank higher in search engines.
The blog SEO tasks include on-page optimization, increased page loading speed, Internal linking.
Why is blog SEO important?
There are other platforms through which you can drive traffic to your blog post.
The Social platforms like Linkedin, Facebook, Instagram, and others.
But SEO brings means the search engine traffic brings stable and consistent traffic to the blog.
If your keyword research job is well and your blog keywords are ranking for a particular search query, it gives you traffic to your blog.
Generally, people check the websites that are appeared on the first page of the search engine.
If your blogs appeared on search results and maintained those rankings for particular keywords, then your post can get consistent traffic from Google or search engines.
That's why blog SEO is an essential task.
How to write content for blog post SEO?
Writing a blog as per SEO practices is an art and science.
Select Niche-
First of all, choose one niche and write blogs accordingly.
It helps to understand the web robots about your site.
Even one can choose micro-niche will do well. For example – car cushions here we can say niche is car and car-cushions is a micro-niche.
Take another example – Health- weight loss here health is a niche, and weight loss is a micro-niche that targets people looking for weight loss.
Select keyword-
Keywords research is the primary task.
Select one keyword for each blog post and write a blog that contains focus keywords.
The use of multiple keywords will confuse Google with other web robots, and it will become hard to understand what the blog is about?
It is always best practice to focus on one keyword and write content so web robots can easily understand the topic of a blog post.
Use Long tail keywords-
Using long-tail keywords is good practice if you are new to blogging.
Long-tail keywords are less competitive as they are specific.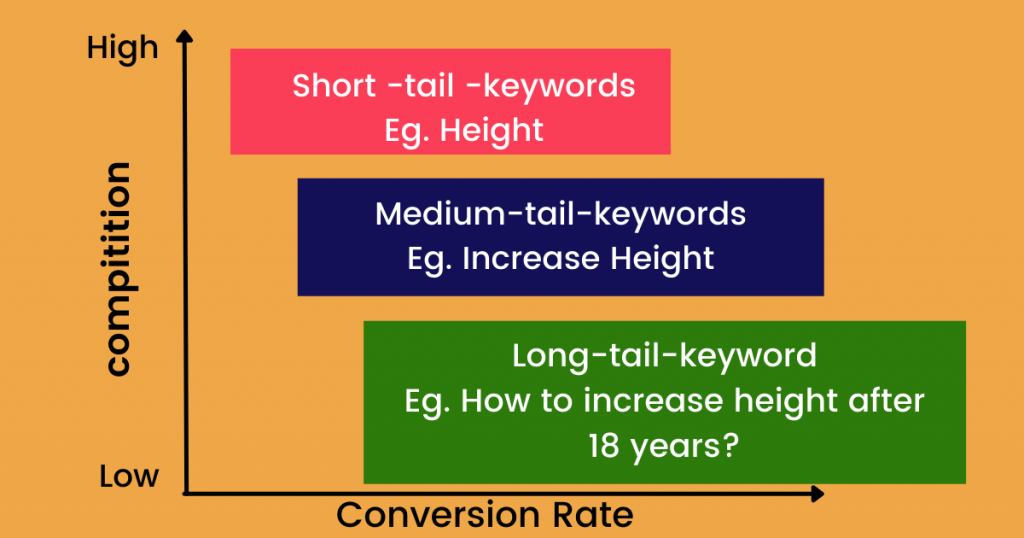 From the above image, you can get a clear idea about keywords.

Keywords are words or phrases searched by users in Google or any search engine.

Short tail keywords are generally a single word, and it is tough to rank for them.

Medium tail keywords are 2 to 4 words, and they mention some information about a keyword but are not specific.
So here increase height. A search robot shows increasing height keywords, but everyone has a particular purpose behind the search.
In this situation, a reader might not get the correct results that he search for?

Long-tail keywords are specific, and it tells the search engines what the reader is looking for and displays results for exact long-tail keywords entered in the search bar.

So these keywords are less competitive and are pretty easy to rank.
You can take the help of the Google search bar itself to find long-tail keywords.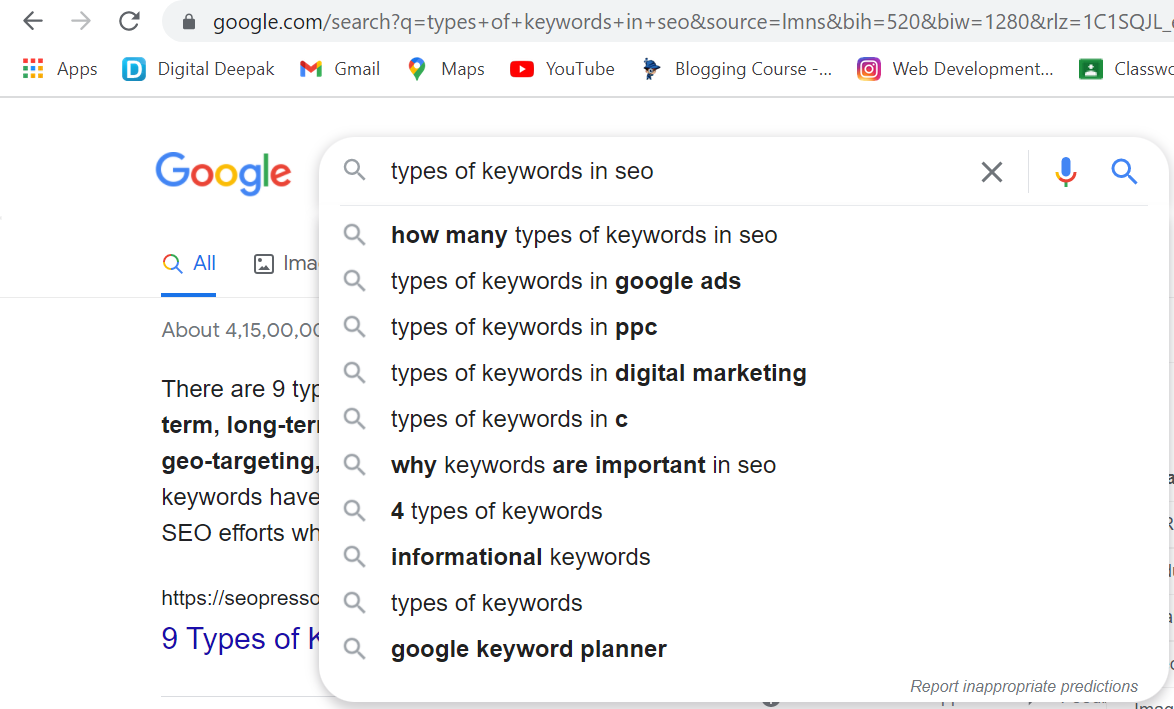 It shows suggestions of what people are looking for, and you can get keywords ideas according to the search for your post.
Another tool is to Answer the public to get long-tail keywords.
Ahref is also the best tool for keyword research.
Create A blog post
Once you have done with keywords research next step is to create content and use the keywords in range contextually.
There is no need to write more keywords; otherwise, Google will find it spammy. Keyword stuffing practice is against Google algorithms.
Write content from the user's perspective. The high-quality and valuable content keeps engaging the readers to avoid leaving the site.
Content should be natural. Don't over-optimize it. Using a few keywords in HTML code is good practice then.
How to optimize blog posts?
After creating a blog post, now it turns to optimize it. Use on-page seo practices at this point to optimize a blog.
Title –
The title is the name of your post that tells people and search engines the topic of your content.
There are a few points to optimize the title
Choose a relevant title for your topic
The title must be 70 characters long. The long title gets cut off in the search results.
Include a few keywords in the title.
Meta Description-
Meta tag reflects under the title in search results.
A keyword-rich meta that describes your post in short so that a reader can get an idea that the post is helpful or not for him.
It reduces the bounce rate, and less bounce rate has higher chances to rank.
Few points to optimize the meta tag-
The meta tag should be 160 characters long.
Include some focus keywords
The description should be short and eye-catchy as it reflects in search results
Headings tags-
Headings are nothing but essential points of the content.
Heading tags are from H1 to H6.
Use H1 and H2 tags for main headings.
Few point to optimize
H2 tag wrap into H1, H3 into H2, H4 into H3
Headings maintain the flow of the content.
Headings, sub-headings
Include keywords into headings
Image optimization-
Images are the unavoidable part as they enhance the presentation of content.
Image optimization is also a vital part of on-page SEO.
Google gives search results for images too.
Under the Google search bar, listed some tabs – ALL, Images, videos, etc.
So if you click on the image tab, you will get indexed images for the search keywords.
Images play an essential role in bringing organic traffic.
Keep a few points in mind.
While putting an image in content, write some focus keywords or secondary keywords, or LSI keywords in the image's Alt tag.
There are chances of indexing an image while crawling for that keyword.
The image should be relevant to the blog post.
Use HD images as they are clear and high in resolution. But don't forget to compress it.
Use Media in blog post-
Use media like videos in a blog post to engage the users on site.
Videos also drive traffic to content.
The video should be relevant and precise.
SEO-friendly URL-
URL of a blog post is also a vital part of SEO practices.
Keep URL short.
Avoid stop words like in, of, and, the, an, and more. Read more about stop words.
Don't use symbols in between URL
URL includes a few keywords.
Relevant to the topic
Internal Linking-
Interlinking of the post is one of the best SEO practices.
Its role in SEO is to keep engaging your audience so they will spend more time on your site.
Internal linking is known as inbound links that divert your audience to other content of your site related to the post and value given to the readers.
While optimizing for inbound links, give proper anchor text and links as you divert your reader to another post.
The linked post should be relevant to the content.
If the reader finds the linked text does not apply to the current topic, there are chances that he could lose his interest and leave the site.
So it is more important to link other content as per the reference of the topic.
These all are on-page optimization blog SEO practices
Here are other few optimized practices
Install SEO plugins-
SEO plugins like Yoast, Rank math, All in one SEO all are SEO plugins that help us in on-page SEO.
Yoast and Rank Math is my favorite.
Here are glimpse of Yoast and rank math plugin page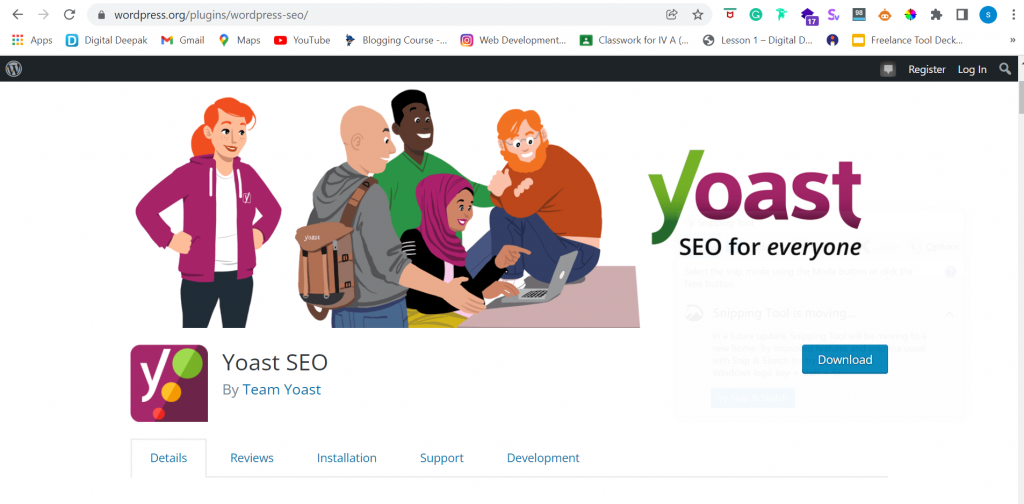 Image credits: https://wordpress.org/plugins/wordpress-seo/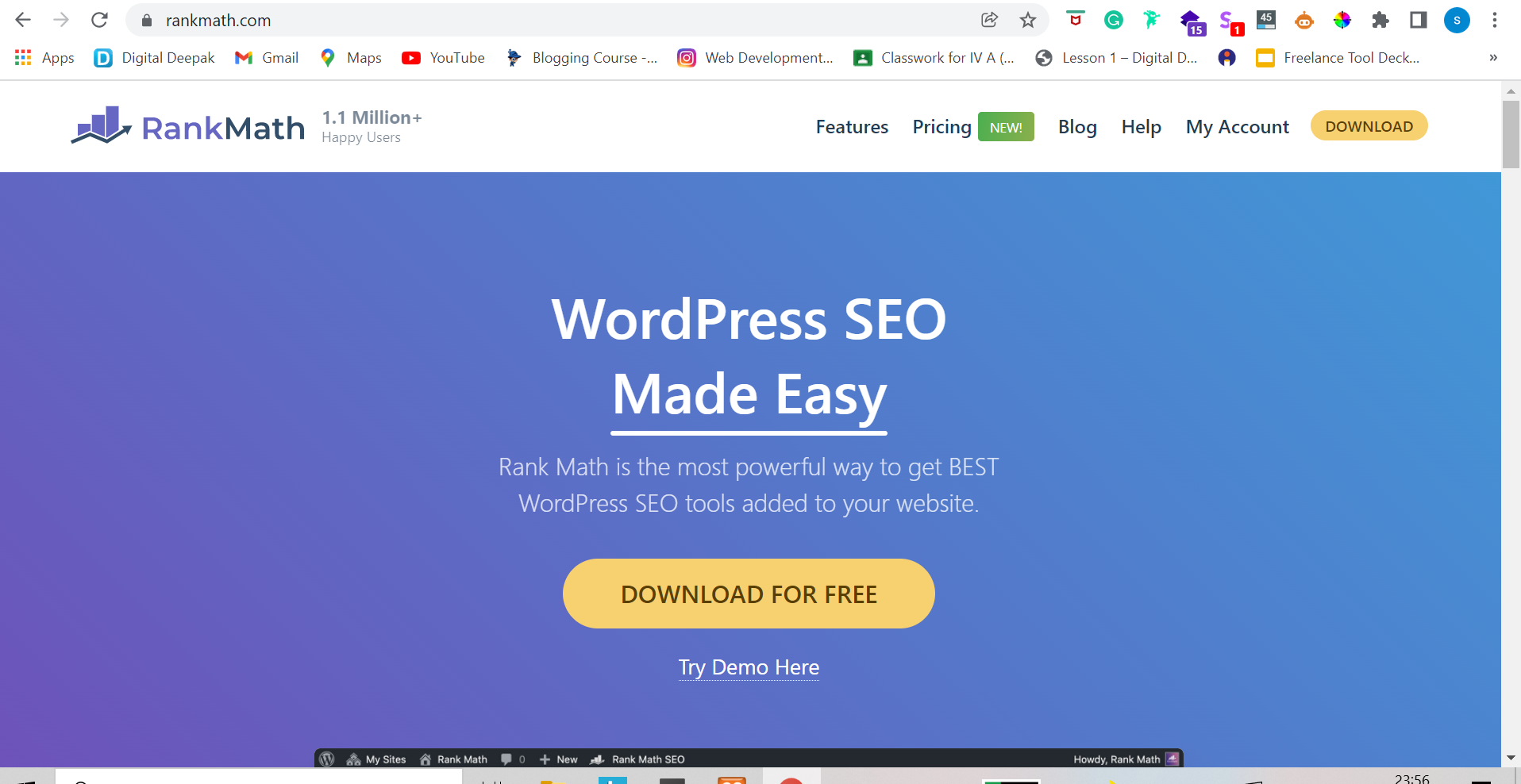 Install speed plugins
Page loading speed is also an essential aspect of SEO.
If loading speed is high, there are chances that your audience can bounce back.
So stick them to your content loading speed of a page is a crucial factor.
Install plugins that will help to increase the speed of a site. Wp-rocket is one of the best.
Site architecture
Make your site architecture so simple that the reader can quickly find the information or blog post.
Site architecture is nothing but how you structure your site pages and are linked together.
An ideal site structure will help the web robots crawl the site easily, and readers can navigate the site easily.
It improves the user experience.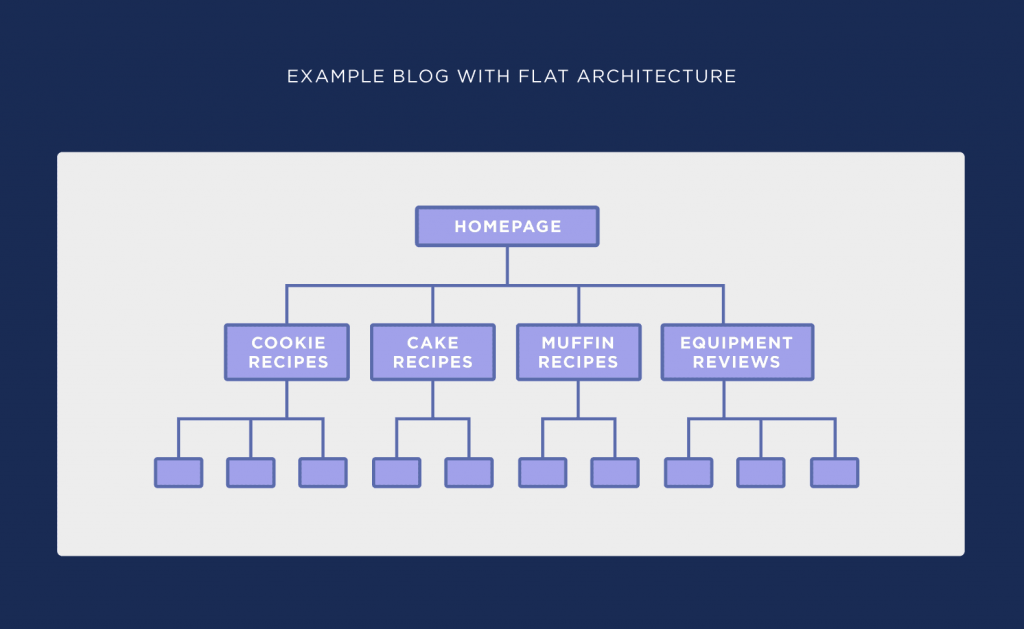 Site map
Create a Site map and submit it in the search console so whenever you create a post URL, that post will automatically submit by a site map.
Rank math pro has given this facility of a site map.
Create categories and subcategories-

Create categories for your blog post according to your niche and content topics.
For example, a travel website can have main categories like food, hotel review, travel stories, etc.
You can make subcategories like road trips that can include parent category travel stories, making SEO-friendly URL structure of categories.

And easy to understand to readers and web robots.
In this image, a URL consists of Shimla as parent category and jakhu-temple-and as a subcategory.
Last but not least is

Monitor Google Search Console-

For every blogger, it is mandatory to register a website in the search console.

Google search console gives n number of data, but performance report of a site is vital to a blogger.
You can check Coverage and site map options too.
Google search console gives our content performance and tells us how many users are on our page in 7 days, 28 days, three months, and so on.
Impression for keywords.

Google search console itself is a vast topic to understand.
Conclusion-

Each blogger wishes to rank their content in Google.
But to rank content higher in search engines, a value given high-quality content is a must.
But only content is not enough, and it should be search engine optimized.

An optimizing blog for SEO is tricky but not impossible.
After all, practice makes a man perfect like this phrase SEO is an art, and you should do it as many times as you can; it makes you realize the SEO hacks, and that will make your content rank higher.
After all, this is my experience. Don't forget to share your experience with blog SEO.